Ski Training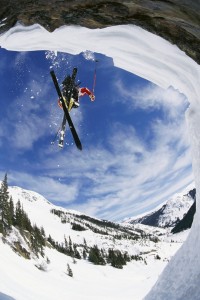 What's the best way to do some ski training before your next snow trip? How about incorporating some skiing workouts into your weekly routine to enhance your ski fitness and overall skiing performance.
By doing some ski training exercises you can condition your body so that it is more prepared for the rigours of a day on the slopes.
During any one ski day you could be riding powder, skiing moguls, carving down tree lines and hitting kickers. If you go into a day of skiing unprepared, at worst you will end up injured, at best you will be pretty tired and sore by the end of the day. But it doesn't have to be this way…
Complete Ski Training Workouts
Luckily for you, Total Skiing Fitness has a complete ski training plan that is ready to download and use to improve your overall ski fitness and conditioning.
The benefits of using our ski training plan is that you don't have to think about what exercises to do next because it is all laid out for you with colour pictures in the PDF manuals and online exercise videos to show you how to perform each exercise.
Once you get started with the ski training program you will develop greater stability through your knees, hips and core, as well as greater leg endurance and mobility.
This will allow you to ski harder all day and not fatigue as quickly. It will also help to protect your body against any unnecessary injuries.
How Long Do The Ski Training Workouts Take?
Each ski training workout is designed so that you don't need a lot of time. You should be able to get through the workouts in around 45 minutes each. There are two phases to the program with the exercises getting progressively harder during the second phase.
What Equipment Do I Need For The Ski Training Program?
All you need to get started is a swiss ball (exercise ball) and a set of adjustable dumbbells. We want you to be able to do your ski training at home or at the gym with minimum equipment so you don't have to spend a lot of money to improve your ski fitness.
Sounds good to me… how do I get started?
If you want to download our ski training program you can try it risk free for 60 days. This means we offer a money back guarantee so there is no risk to you in getting started.